Setting up regional settings
Navixy allows you to choose regional preferences for your service including Language, Currency, Measurement system. You may set them up in Account Management → Service preferences.

Languages
The platform currently supports 29 languages:
Albanian

Arabic

Armenian

Brazilian portuguese

Bulgarian

Croatian

Dutch

English

French

Georgian

German

Greek

Indonesian

Kazakh

Korean

Lithuanian

Mongolian

Persian

Polish

Portuguese

Romanian

Russian

Serbian

Sinhala

Spanish

Tamil

Thai

Turkish

Ukrainian
The number of languages is constantly growing. We may add the language you need, please contact us to get more details.
Time zone and date / time format
You can define the default time zone and date / time format. You users will have these settings by default when they first time log in to the system. However, they will be able to change these settings in their profile.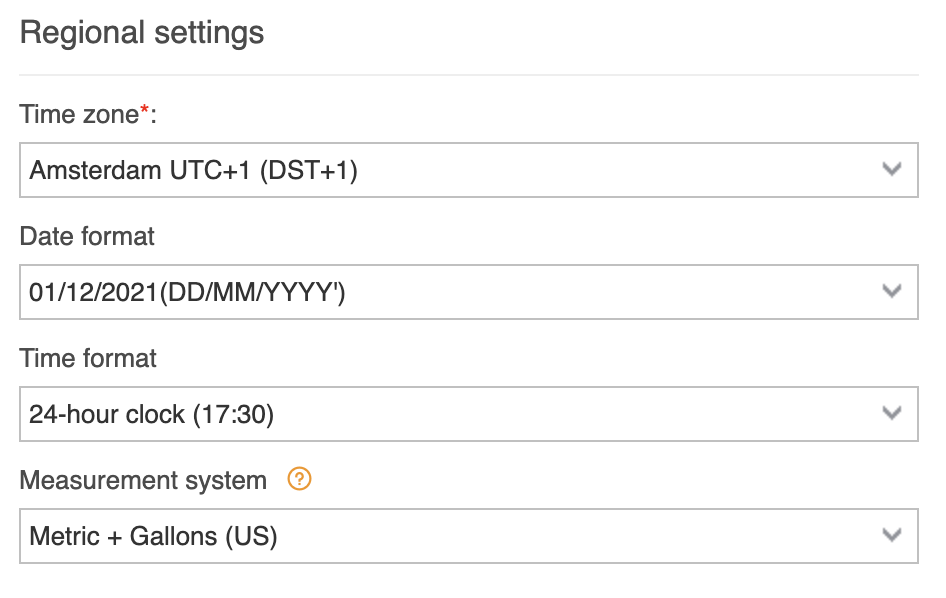 Currencies
Navixy supports all the national currencies used worldwide with 0 to 4 digits after the decimal point.
Measurement system
Navixy gives you an opportunity to choose the measurement system and switch on transliteration for SMS. You may set it up in Account Management→User Defaults→Regional Settings. You may choose from the following measurement systems: