The table below explains what you need to know if you sell or buy GPS devices in the United States. In addition to listing the organizations that issue certifications, the table also includes each agency's certification requirements, testing labs, proof of certification, and a brief explanation of their purpose.
For more detailed information, please see below or contact the organization with specific questions.
Organization

Requirements

Testing labs

Key takeaways

Valid evidence

Federal level

FCC

If radio frequency equipment is produced, sold, or distributed in the US, then it must have FCC certification.

FCC label is required on device, OR

FCC ID

State level

Department of toxic substances control (or similar agency)

RoHS (Restriction of Hazardous Substances) impacts the entire electronics industry. Originally established by the European Union, it specifies maximum levels for the restricted substances including cadmium, mercury, and others.

In the US, several states have regulations based on RoHS standards, including New Jersey, Illinois, Indiana, Minnesota, New York, Rhode Island, and Wisconsin. In California, RoHS is enforced in full.

RoHS label on the device is required

RoHS certificate

Cellular operators

PTCRB
(Consortium of operators including AT&T, T-Mobile, U.S. Cellular, KORE Wireless, and others)

The PCS Type Certification Review Board (PTCRB) was established in 1997 to test all wireless communication devices (mobile phones, M2M modules, IoT devices, etc) for compatibility with US cellular standards. A product must have this certification in order to be approved for the North American cellular network market. The Cellular Telecommunications Industry Association (CTIA) is responsible for processing PTCRB tests.

To certify a device, PTCRB conducts a series of tests to determine that the radio signal is at the proper frequency. Otherwise, it might interfere with other signals or send unwanted data. Then, the SIM is inspected for correct installation.

PTCRB certification notice

AT&T requires certification for GPS trackers that use 5G NR, LTE, LTE-M, and NB-IoT technologies. Device conformity is achieved through PTCRB certification.

PTCRB certification notice

PTCRB labs or T-Mobile accredited labs: Aircom Labs, Intertek Tech, Mahindra

T-Mobile certification (TA) requires FCC and PTCRB1 certifications to be completed first.

PTCRB certification notice

U.S. Cellular certification (TA) requires FCC and PTCRB1 (or GCF1) certifications to be completed first.

PTCRB certification notice

Approved ITLs (independent test labs) listed in the Open Development Device Certification Process

The Verizon Open Development project requires GCF1 certification to be completed prior to submission. After that, Verizon designs a Custom Test Campaign (TECC) for a device that needs certification, which is executed by an authorized ITL.

Open Development Certification letter
1Common industry wireless certification requirements. PTCRB and GFC are two widely recognized organizations that certify devices based on 3GPP logic meet device-network interoperability standards. Whereas AT&T, T-Mobile, and U.S. Cellular all require PTCRB certification for their programs, Verizon requires GFC certification.
Required certification labels in the US
After certification, a product may need to display certain agencies' markings or certificate ID on the packaging, manual, and device itself. This ensures that any potential buyer knows exactly which certifications a device has. They can also access the FCC's database and search by ID number for additional product information, such as test reports, frequency bands, and applicant details.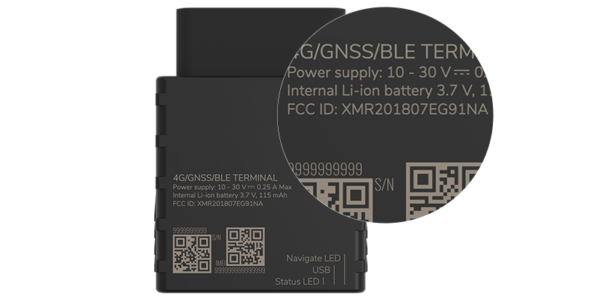 Program

Label

Safety

Wireless

Meaning

USA

FCC

✓

All communication devices in the United States are subject to approval by the FCC (Federal Communications Commission), including radio, television, wire, satellite, and cable transmissions. According to the agency's stated objectives, this is done to ensure competition and innovation, encourage optimum spectrum usage, and provide industry leadership, among other goals.

If radio frequency equipment is produced, sold, or distributed in the US, then it must have FCC certification.
Optional certification labels in US
Program

Label

Safety

Wireless

Meaning

USA

UL

✓

In the US, UL (Underwriters Laboratories) tests a wide array of products for safety and technical standards, including IoT devices. These tests can help manufacturers discover potential problems before a product goes to market. UL approval may also be required for FCC and other certifications, although it's typically optional for market entry.
How to check if a GPS tracker is certified by cellular operators?
To check if a device has been certified by individual cellular operators, you can visit the sites below and explore their databases.
If you can't find your device, please contact your manufacturer for further information about this issue.
Cybersecurity certification for IoT devices in 2023
Beginning in 2023, the United States will require consumer IoT products to display a risk rating. Implemented due to the increase of IoT product use and the significant cybersecurity risk posed by poor device security, the initiative is intended to help better educate consumers on product safety when shopping for smart home devices, personal GPS trackers, and other IoT electronics. The program is based partially on the Energy Star rating, which scores products based on energy efficiency.
Essentially, the rating will indicate if the device meets standards set by the National Institute of Standards and Technology (NIST) and the Federal Trade Commission (FTC). Moreover, people will be able to scan a barcode on the label to access more information on software updating policies, data encryption, and addressing vulnerabilities.