GPS tracker certification
In this guide, you'll learn what GPS tracker certification entails, why it's important, and which certificates are required in order to sell or use GPS trackers.
Every electronic device on the market is subject to product certification before being sold, and GPS trackers are no different. Just like many other electronic product classes, they need to be approved to show that they meet compliance requirements with respect to customer safety, electromagnetic compatibility, and other regulations set by certain countries.
This article explains what GPS tracker certification entails, and which certificates are required to sell or use these devices in your country. If you have questions, contact Navixy for assistance.
What is GPS tracker certification?
GPS tracker certification refers to any review process mandated for a device to be sold in a given market. Different national and international bodies, as well as network operators themselves, are responsible for determining that a unit meets minimum safety and technical standards. Devices sold in multiple markets will need to have each region's required certifications clearly displayed in order to be sold there.
Before you start marketing GPS trackers in a specific region, you need to make sure that the devices you have chosen comply with all local regulations. Failure to meet these standards may result in significant fines to the company or its officials, recalling previously sold devices, and processing customer claims.
The complete certification process of a GPS tracker may consist of several certifications to confirm that the device meets the national standards for safety, wireless compatibility, and security:
Safety requirements
Refers to user safety such as electrical safety (e.g., for GPS tracker with AC power adaptors), disclosures of hazardous materials, and communication standards.

Electromagnetic compliance
Radio frequencies, bands, and protocols are subject to testing to ensure devices don't cause interference with other devices when operating.

Cellular operators
In some countries, cellular network operators, such as Verizon and AT&T, will certify devices for use on their specific networks. This may be necessary if you use them for your business internet or have SIM cards through their network.

National security
To help improve cybersecurity and encryption standards, some countries require ratings for certain products based on risk to ensure consumers are educated about which products are safest to use. In 2023, the US will launch such a labeling program for consumer IoT electronics.
GPS tracker certification process
Depending on the country, there are different mandatory certification programs in each category. In most cases, these may be completed concurrently, while some may need to be done in a particular sequence. Also, some wireless certifications may require that both the GPS tracker and its emitting components, such as the cellular module, be certified separately.
The organization that defines the standards and procedures for a certification program also lists laboratories that are authorized to perform the actual tests. It's often required for manufacturers to provide a lab with 1-2 GPS tracker samples and relevant documentation. Any changes to the design of the hardware usually necessitates recertification.
Applicant eligibility is also defined in the certification documents. Typically, the device manufacturer initiates the process but in many cases it may be a company that has established relationships with the manufacturer, such as authorized distributors or resellers, or even end customers in some instances.
After successfully passing all tests, the device is issued an official certificate or a notice of certification by the authorized organization as evidence that it complies with the requirements. In addition, the certified GPS tracker is often listed in a publicly accessible registry. Most certifications that are regulated by the government require that the official certification mark or identification number is displayed on the device, package, and user manuals.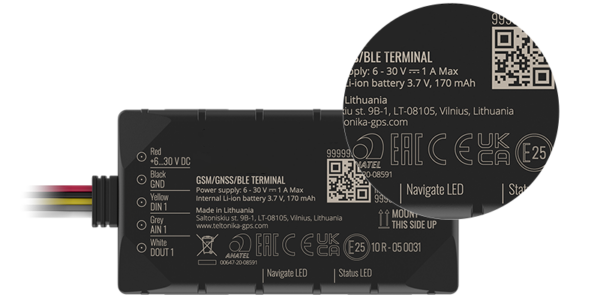 Certification labels on a GPS tracker
Common certification programs
The table below lists the important certification programs that are commonly used in specified regions and countries. If your country is not listed, you may expect that there are similar requirements from local agencies.
Program

Label

Countries

Safety

Wireless

Meaning

United States and Canada

UL

USA

✓

In the US, UL (Underwriters Laboratories) tests a wide array of products for safety and technical standards, including IoT devices. These tests can help manufacturers discover potential problems before a product goes to market. UL approval may also be required for FCC and other certifications, although it's typically optional for market entry.

CSA

Canada

✓

Whereas UL tests and certifies devices in the US, CSA (Canadian Standards Association) certifies devices for both North American and international markets. Many of its standards and testing protocols are similar to those implemented by the FCC. Like UL certification, CSA testing is optional for entry into the Canadian market.

RoHS

USA (some states)

✓

Originally established by the EU in 2002, RoHS (Restriction of Hazardous Substances) describes the limits on the use of certain hazardous materials commonly used in electronics, such as lead, cadmium, and mercury.

Although it's not federally mandated in the US, some states (including New Jersey, Illinois, Indiana, Minnesota, New York, Rhode Island, and Wisconsin) have modeled their hazardous substance laws on RoHS, while California enforces it outright.

FCC1

USA

✓

All communication devices in the United States are subject to approval by the FCC (Federal Communications Commission), including radio, television, wire, satellite, and cable transmissions. According to the agency's stated objectives, this is done to ensure competition and innovation, encourage optimum spectrum usage, and provide industry leadership, among other goals.

If radio frequency equipment is produced, sold, or distributed in the US, then it must have FCC certification.

ISED1

Canada

✓

Similar to the FCC, ISED Canada (Innovation, Science and Economic Development—formerly IC, or Industry Canada) approves communication devices for sale in Canada. The country's Radio Standards Specifications define the standards for approval, while Foreign Certification Bodies (FCBs) certify products outside of Canada and issue Technical Acceptance Certificates for all approved devices. This certificate is required to enter the Canadian market.

Note: Prior FCC approval can help expedite ISED certification.

Cellular operators

USA, Canada

✓

Major cellular operators in the US and Canada require IoT devices to be certified with them (TA certification) to ensure wireless network compliance. Not meeting these requirements may lead to the devices being disconnected from the network. Most of these certifications require two prior certifications:

Government wireless certification: FCC or ISED Canada

Industry cellular certification that confirms devices based on 3GPP logic meet device-network interoperability standards. Issued by:

PTCRB – for AT&T, T-Mobile, and U.S. Cellular (The Cellular Telecommunications Industry Association [CTIA] is responsible for processing PTCRB tests).

GFC – for Verizon

Central and South America

NOM

Mexico

✓

NOM (Normas Oficiales Mexicanas, or "Official Mexican Standards") are certifications issued by various applicable agencies to establish characteristics that products, processes, or services must meet to avoid risk to consumers, in addition to monitoring compliance and application.

IFT1

Mexico

✓

Instituto Federal de Telecomunicaciones (IFT, formerly called IFETEL) is the Federal Institute of Telecommunication for Mexico and certifies telecommunication equipment. This means any device that uses frequencies to connect to satellites, public networks, or PSTN (public switched telephone network) requires IFT certification.

IRAM

Argentina

✓

✓

In Argentina, Instituto Argentino de Normalización y Certificación (Argentine Institute for Standardization and Certification) certifies products to comply with regulations. This includes electric and electronic products that operate between 50-1000 Vac, or 50-1500Vdc, and up to 63A and 5 kVA.

Products are generally issued either an S-Mark or S-Type certification, depending on class.

ANATEL

Brazil

✓

✓

Brazil's ANATEL (Agência Nacional de Telecomunicações) regulates national telecommunications. Products such as GSM and CDMA cellular phones, satellites, wireless devices (Bluetooth, Wi-Fi, etc), and other communication devices require ANATEL certification. The agency tests wireless compatibility, EMC, and safety.

Europe

CE

European Union

✓

✓

In the European Union, many products are subject to CE approval (Conformité européenne ["European conformity"] for safety, health, and environmental protection. No matter where the item is produced, it has to bear the CE marking to be sold in the EU.

UKCA

United Kingdom

✓

✓

After the United Kingdom exited the EU, they had to create their own certification standard to replace CE. Starting in 2021, UKCA (UK Conformity Assessed) is the substitute for this marking in England, Wales, and Scotland, and has the same standards as CE. Any products still bearing the CE marking have until 2023 to transition to the new requirements.

RoHS

EU, UK

✓

Originally established by the EU in 2002, RoHS (Restriction of Hazardous Substances) describes the limits on the use of certain hazardous materials commonly used in electronics, such as lead, cadmium, and mercury.

Since 2011, RoHS certification is also required for a product to obtain a CE mark.

EAC

Russia, Belarus, Kazakhstan, Armenia, Kyrgyzstan

✓

✓

First introduced in 2011, EAC (Eurasian Conformity) certification was created by the technical regulations of the Eurasian Economic Union. The certifications are issued by independent certification bodies, while laboratories are accredited by agencies in Russia, Belarus, Kazakhstan, Armenia, and Kyrgyzstan—the five members of the EAC Economic Union.

Oceania

RCM

Australia, New Zealand

✓

✓

Since 2016, all electronic radio equipment sold in Australia and New Zealand must bear the RCM (Regulatory Compliance Marking), which is issued by AMCA (Australia Media and Communications Authority) and registered with the EESS (Electrical Equipment Safety System).
1Device may list an identification number instead of a label as proof of certification.
Certification requirements in specific countries
GPS tracking devices must meet the national standards of every country where they are marketed. Some national compliance requirements are based on international standards, while others simply mimic them or add extra layers of requirements. Other authorizations may be quite unique to specific countries or groups of countries.
Read more about GPS tracker certifications in the following countries: