The table below explains key details for buying and selling GPS devices in Canada. Along with the names of the organizations, the table also includes a summary, of each agency's certification requirements, testing labs, and proof of certification, if known. For more detailed information, please see below or contact the organization with specific questions.
Note: cellular certifications are generally optional in Canada, so contact your provider to learn more about their requirements and standards. In some cases, certification may only be necessary for certain devices or not at all.
Organization

Requirements

Testing labs

Key takeaways

Valid evidence

Federal level

ISED

ISED (formerly IC) certifies communication devices for entry into the Canadian market. A product cannot be sold in Canada without this certification.

After certification, the device is issued an individual ISED ID number "XXXXXX-YYYYYYYYYYY", where X is the Company Number and Y is the Unique Product Number.

ISED marking on device, OR

ISED ID

State level

Dept of Hazardous Substances

The Canadian Department of Hazardous Substances ensures that products comply with limits on harmful products, particularly those common in the electronics industry like lead and mercury.

Although RoHS isn't enforced at the federal level, this certification is required in many other regions and countries including the EU, Japan, and parts of the US.

RoHS label on the device is required

RoHS certificate

Cellular operators

PTCRB

The PCS Type Certification Review Board (PTCRB) was established in 1997 to test all wireless communication devices (mobile phones, M2M modules, IoT devices, etc) for compatibility with US cellular standards. A product must have this certification in order to be approved for the North American cellular network market. The Cellular Telecommunications Industry Association (CTIA) is responsible for processing PTCRB tests.

To certify a device, PTCRB conducts a series of tests to determine that the radio signal is at the proper frequency. Otherwise, it might interfere with other signals or send unwanted data. Then, the SIM is inspected for correct installation.

PTCRB certification notice

Rogers certifies wireless devices to confirm they're compliant with radio frequencies and data requirements. This certification is required for certain devices to be deployed on Rogers' networks.

Rogers Device Certification letter

IoT devices that are HSPA, LTE, or LTE-M compatible should work on the Telus network without additional action, so certification isn't typically required.

SaskTel has minimum operation standards for a device to work on their networks. The company can perform a Technical Assessment, which confirms that the device's technology and frequency bands are network compatible, or a more in-depth Technical Approval to receive customer support. SaskTel M2M Management Centre handles all inquiries after certification and deployment.

Bell's Hardware Certification Program ensures that devices offer a high-quality user experience and operate properly on their networks.
1Consortium of North American cellular operators including Rogers, Telus, and other major Canadian networks.
Required certification labels in Canada
Products need to display all relevant markings from each agency that issues a certification. In Canada, the device may bear the former IC label or simply the newer ISED ID number, depending on when the tracker was certified. The latter allows you to search the ISED database for additional details about the tests, product documentation, and more.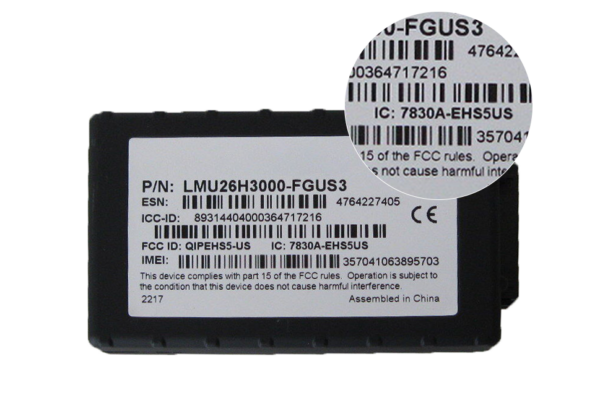 Program

Label

Safety

Wireless

Meaning

Canada

ISED1

✓

ISED Canada (Innovation, Science and Economic Development—formerly IC, or Industry Canada) approves communication devices for sale in Canada. The country's Radio Standards Specifications define the standards for approval, while Foreign Certification Bodies (FCBs) certify products outside of Canada and issue Technical Acceptance Certificates for all approved devices. This certificate is required to enter the Canadian market.

Note: Prior FCC approval can help expedite ISED certification.
1Device may display IC/ISED ID number instead of label as proof of certification.
Optional certification labels in Canada
Program

Label

Safety

Wireless

Meaning

Canada

CSA

✓

CSA (Canadian Standards Association) certifies devices for both North American and international markets. Many of its standards and testing protocols are similar to those implemented by the FCC and UL. Like UL certification, CSA testing is optional for entry into the Canadian market.
How to check if a GPS tracker is certified by cellular operators?
Visit the sites below to explore each cellular operator's database of certified devices or reach to them for more details. Since cellular certification isn't a requirement, some companies may not provide information regarding this process.
If you can't find your device, please contact your manufacturer for further information about this issue.